全部活 完全版Ⅴ All-Sample-✨大リニューアル!!✨
Thank you Very much for your subscription

!!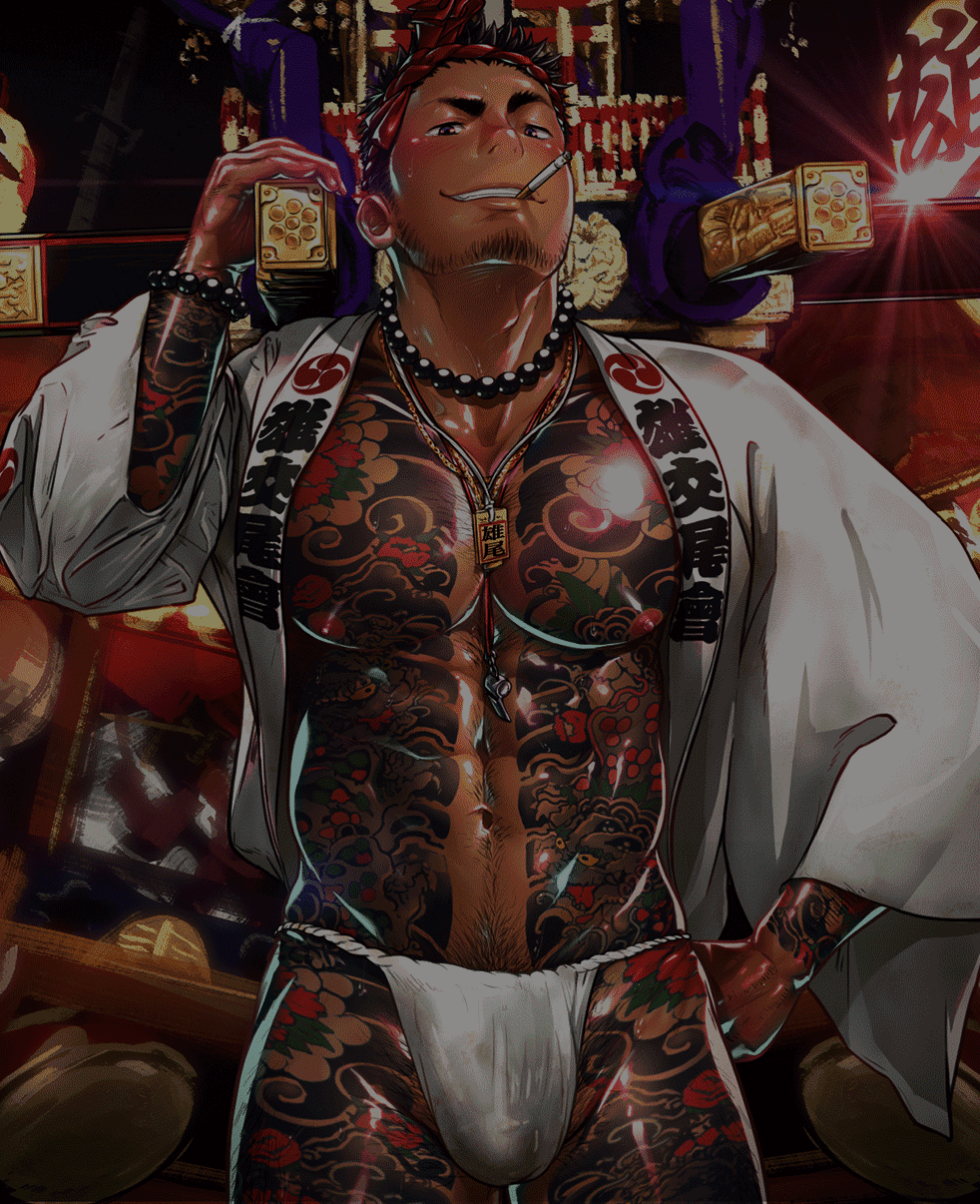 Once again, I'd like to introduce a new artist I recently found on the website
PIXIV. A lot of these new artists have pennames which are hard to understand,
don't they? I guess this is the current fashion in the Japanese art and illustration
world.What I especially liked about Jinsky's work is that he draws from a very
"un-Japanese" perspective. I thought it was interesting that the nationality of
many of his characters is unclear. This "un-Japanese-ness" perhaps it comes
from the inorganic qualities of the computer graphics used. Or maybe it's because
the figures are not Asian. I thought that in itself was quite interesting considering
the engrained "Japanese nature" of many of the artworks I handle.
I hope there will be a chance for me to handle some of his works in the future.
Q. Please tell me about the concept of your works.
A. I'd have to say it's definitely the "baby-faced he-man" .
But rather than bearded daddies, I prefer to draw students and younger boys.
Amongst those I focus mainly on the jock-types and images of from youth.
I think my focus is quite wide. (Everything ranging from RPG fantasy,
fighting games, shota, police, angels, sportsmen, etc.)
I think what drew me to these baby-faced guys was watching military themed gay
movies, and those featuring (often baby-faced) jocks. I really loved seeing those
guys who walk the fine line between man and boy. Even in my everyday life
I look for guys with baby faces. I'd love it if all the baby-face lovers of Japan could
see my work.When I draw an illustration I'm always conscious of colouring it just
right, and I like to add some drama to make sure my pictures are never boring.
(I'm not sure if I've achieved this though…)
I especially try to make their groins look as realistic as possible. I've been
influenced by the illustrations of Juichi, and that's what I try to aim for.
From this year I've started using the graphics program "Inkskape" and draw the
outlines for my clean copies in beige. To be specific, I like rosy cheeks and noses
so that's how I draw. I also love their rosy butts. I guess that's my concept.
Q Please tell me your history as a gay illustrator.
A. I first released my illustrations on the internet in August, 2009.
Mostly I publish them on PIXIV, but I also started a blog in the same month of 2009.
I was first interested in gay illustration from the age of 16.
I always loved drawing and I used to secretly draw gay and shota themed works,
but I wasn't technically satisfied with them and I never published them.
I was a big fan of Juichi of "♂Mentaiko♂" fame and Migiri Senga who worked on
"Apocripha/偽典", and wanted to become like them. So I started practicing.
At the moment I study oil painting at university and work on my illustrations at home.
男の子好きな、本当に多くの皆様のおかげで私は生きられています。
ありがとう。心より感謝申し上げます。
I am alive thanks to the boys and so many kind people.
Thank you. Thank you from the bottom of my heart. 
🇯🇵日本語サイト「野球部の清瀬くん」★↓                                              🇬🇧English site「Kiyose-kun」★↓

http://artisticsjinsky.com/Movie/Yuwaku/kiyos♥♥♥♥♥♥♥♥♥ippaida.html
http://artisticsjinsky.com/Movie/Yuwaku/kiyo♥♥♥♥♥♥♥♥♥ippaida_eg.html
(↑Internet Explorer以外の"PC"ブラウザ推奨です。iPhoneだとなんかダメです… We recommend PC browsers other than Internet Explorer, why is iPhone-sfari useless …)
※The above URL of the site should be kept secret only for members
~完全版静止画ZIP  [Pic.zip]  DL  ※No-Password~






























この度はご購読(SAMPLE)頂き、誠にありがとうございました! 皆様のご支援に心より感謝申し上げます。